Mano Michael, formerly known as Michael Ezoh "The Emotional Voice" is among the most talented multi-genre singers and artists across the globe. Originally from Nigeria, The soul singer relocated to Germany to further his goals as a professional singer and creator.
In 2011, He reached worldwide fame after "The Emotional Voice" performance in Olympic Hall in Munich, Germany. After this event, he became a Guinness World Record holder as the singer with the "World's largest gospel choir".
He sang in large arenas and performed all kinds of high-profile gigs while working on his debut album at the same time. In 2015, he released "Fly", which was warmly received by thousands of his fans; the album was later remixed and featured Vector the Viper to fit the aesthetic of more modern pop and party genres.
In 2017, Mano Michael released "Amazing Grace" and "S.O.S.", proving that he could seamlessly blend several distinct music genres into a harmonious, exquisite creation. By exploring different music styles, Mano Michael broadened his perspective and expanded his arsenal of music tools, which was reflected in his later tunes and albums.
Mano Michael resurfaced on the global music scene in 2018 with a single titled "Amina", further cementing his reputation as one of the most impactful party creators and singers on the globe specifically catering to the elite. His gorgeously unique voice helped him climb the ladder of the most successful vocalists in record time.
In March this year, The Emotional Voice released "No Worries", a single that has taken social media platforms by storm, showcasing his unique rhythm and groove sensibilities. He recently announced that a new song is soon to be released on November 25th, a title originally featured on his debut album called "Fading Away".
The freshly remixed, remastered, and possibly reworked "Fading Away" expands on his legacy – he reached global renown with the biggest gospel choir in the world and is returning to the stage with a brand-new vision for the song that resonated with millions.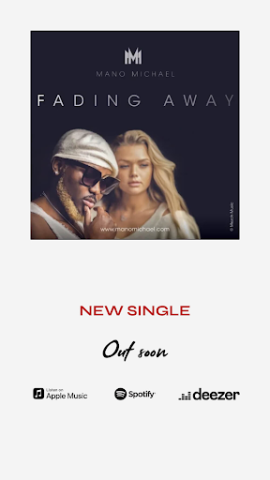 Media Contact
Company Name: Mezoh Music
Contact Person: Sandra Roßberger
Email: Send Email
Country: Germany
Website: https://manomichael.com/